Happy Rhodes
Music for MySpace listeners
This player should play all the songs in order, automatically,
unless you stop the player or click off the page.
Even more song samples can be found at wretchawry.com
Scroll down for downloadable versions of all the songs in this player.

I HAVE HAPPY'S PERMISSION TO SHARE HER SONGS. Just so you know.
Happy's lyrics can be found at the Ecto Home Page.
This page was originally put up to replace the MySpace songs, because I didn't want Happy's songs sitting on MySpace's computers. I changed my mind, and Happy gave her OK to put the songs on MySpace, but there's no harm in keeping this page.
List of songs in case player goes down or for those without Flash. These can be downloaded:
Happy Rhodes - Winter (from Many Worlds Are Born Tonight)
Happy Rhodes - Roy (Back From The Offworld) (from Many Worlds Are Born Tonight)
Happy Rhodes - Tragic (from Many Worlds Are Born Tonight)
Happy Rhodes - The Chariot (from Many Worlds Are Born Tonight)
Happy Rhodes - 100 Years (from Many Worlds Are Born Tonight)
Happy Rhodes - Temporary and Eternal (live) (from The Keep)
Happy Rhodes - Life On Mars (not Bowie) (from The Keep)
Happy Rhodes - The Yes Medley (from The Keep)
Happy Rhodes - Prey Of The Strange (from The Keep, Happy's very first recording)
Happy Rhodes - Down Down (from Building The Colossus)
Happy Rhodes - Glory (radio mix) (originally from Building The Colossus)
Happy Rhodes - Hold Me (from Building The Colossus)
Happy Rhodes - Ashes To Ashes (Bowie) (from RhodeSongs)
Happy Rhodes - Given In (acoustic) (from RhodeSongs)
Happy Rhodes - Summer (from RhodeSongs)
Happy Rhodes - I Say (from Equipoise)
Happy Rhodes - Mother Sea (from Equipoise)
Happy Rhodes - He Will Come (from Equipoise)
Happy Rhodes -The Flight (from Equipoise)
Happy Rhodes - Warpaint (from Warpaint)
Happy Rhodes - Words Weren't Made For Cowards (from Warpaint)
Happy Rhodes - Lay Me Down (from Warpaint)
Happy Rhodes - Feed The Fire (from Warpaint)
Happy Rhodes - When The Rain Came Down (from Ecto, CD bonus track)
Happy Rhodes - Ecto (from Ecto)
Happy Rhodes - Off From Out From Under Me (from Ecto)
Happy Rhodes - I'm Going Back (from Ecto)
Happy Rhodes - Ode (from Ecto)
Happy Rhodes - Don't Want To Hear It (from Ecto)
Happy Rhodes - 'Til The Dawn Breaks (from Rearmament)
Happy Rhodes - Crystal Orbs (from Rearmament)
Happy Rhodes - Because I Learn (from Rearmament)
Happy Rhodes - Asylum Master (from Rhodes II)
Happy Rhodes - Under And Over The Brink (from Rhodes II)
Happy Rhodes - Beat It Out (from Rhodes II)
Happy Rhodes - Take Me With You (from Rhodes II)
Happy Rhodes - Oh The Drears (from Rhodes I)
Happy Rhodes - Possessed (from Rhodes I)
Happy Rhodes - The Wretches Gone Awry (from Rhodes I)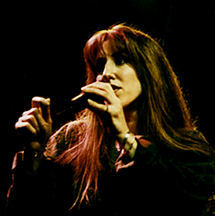 Back to Happy's MySpace page